PACIFIC SALMON
Safeguarding wild salmon through groundtruthing and visual storytelling.
GROUTHTRUTHING
The importance of getting out to the frontlines of resource extraction activity on our coast is the only way to know the truth of how those practices are being conducted. The industries that threaten Pacific Salmon are many; from open net-pen salmon farms, logging, fossil fuels (climate change), to overfishing via commercial and sport fisheries. Our focus is on documenting the harm caused to wild salmon by salmon farms, as we believe it is the industry that is stopping wild salmon from returning in abundance via the spread of disease, sea lice, and other factors. By getting out on the water to monitor and document this industry in action, we have been able to reveal some alarming practices. If you've seen Tavish's Bloodwater and Glass Sponge Reef film, these are two examples. One thing we learn time and time again is that groundtruthing is an incredibly important step in the process of enacting environmental justice.
STORYTELLING
The power of storytelling is undeniable. It has the ability to change how we perceive the world, and thereby act. The stories we tell ourselves and one another shape the world we live in. While there are a number of impactful ways to communicate story, our mediums to communicate what we find in our groundtruthing work are photography, filmmaking/videography, writing, and presenting. In our work to protect Pacific Salmon, storytelling through these mediums has made an impact. From celebrating the global importance and beauty of a species that remains out of sight for most, to educating the public about the dirty and unjust practices of industries that do direct harm to dwindling wild salmon runs. One thing we know is that Pacific Salmon populations on the coast are a fraction of what they once were. We work to change that. It has been the core of our environmental justice work to show the truth of the matter so that people can act accordingly.
In 2019, we will be continuing to focus on the protection and celebration of Pacific Salmon on our coast. Both Tavish and April's respective relationships with wild salmon are deep rooted and multifaceted.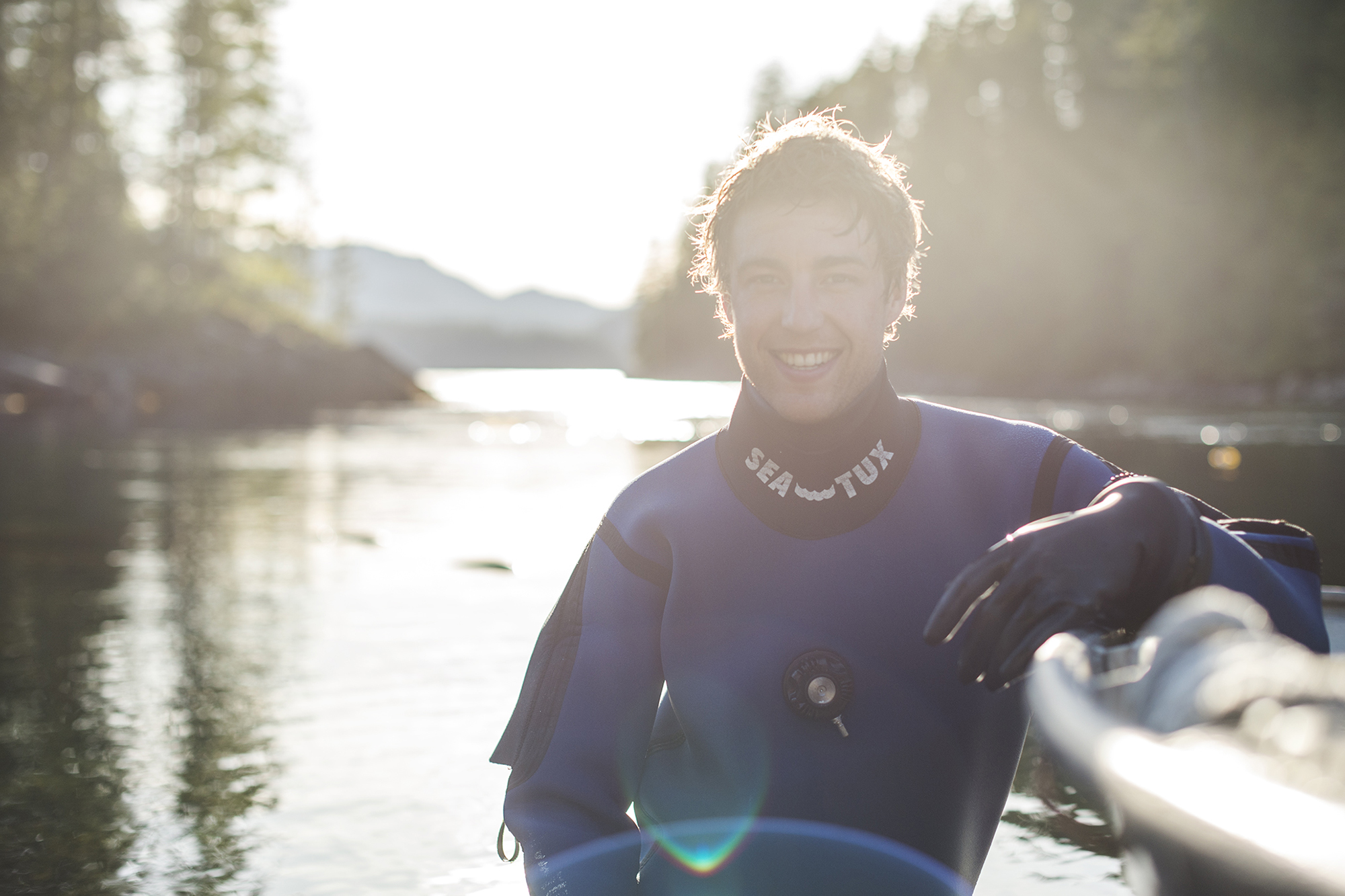 Tavish's story is deeply rooted in the salmon culture of the coast. Raised in a boat-access-only community on Sonora Island, he was fishing off the dock and memorizing the book Coastal Fishes in his earliest memories. He began commercial fishing for salmon when he was 13. Tavish is a commercial and recreational diver; currently he primarily dives with an underwater camera in hand, making images of the beauty, and also the destruction, found below the surface. Tavish has been engaged in salmon conservation issues for over 8 years. In 2018, his investigative journalism into a fish farm processing plant pouring infected bloodwater directly into the ocean went viral and outraged people all over the world. (See film below). Tavish creates films that reveal the industrial practices compromising the health of wild salmon populations. He creates underwater photographs which celebrate the beauty and intricate relationship we have with salmon.
Building a relationship with salmon
April was born and raised in Campbell River by parents who were avid salmon-fishers. Her late grandfather, Thor, was raised on the water working as a fishing guide at his family's lodge (April Point) on Quadra Island. April developed her own relationship with the fish that nourished her body when she began diving and practicing underwater photography up and down the coast. Falling in love with the anadromous fish, and coming to understand her responsibility to give back to a species that has given her so much - her core focus in her work is on salmon conservation and celebration. She has documented (films, photography, media communications) and helped organize the resistance against fish farms for the past few years, such as the fish farm occupations in the Broughton Archipelago last winter. In 2018, April worked as a creekwalker; conducting the annual fall salmon enumeration in the Broughton with the Mainland Enhancement of Salmonid Species Society (MESSS). Her photos and writing explore the relationship between salmon and ourselves, and highlights the need to enact solutions to counter the many challenges salmon are facing in today's world.
Wild Salmon vs Open Net-Pen Salmon Farms
A lot of our work to protect Pacific salmon focuses on the affects of the many open net-pen salmon farms spreading disease in the channels and bays around our respective homes in the Discovery Islands and the Broughton Archipelago. From photographing lethal levels of sea lice on juvenile salmon out-migrating past fish farms, creating films to expose industry practices like the spread of viruses and disease, documenting fish farm escapements and spills, to documenting Pacific herring swimming into the pens and being eaten by the farmed Atlantic salmon. We have donated images and footage to a multitude of efforts working on removing salmon farms from the ocean to help Pacific salmon thrive on the coast once again.
Films, photos, and writing in support and celebration of wild salmon
blood water: B.c.'s Dirty salmon Farming Secret
This film directed, filmed, and edited by Tavish Campbell. Released in 2018, it rapidly went viral reaching an audience of over 3.5 million people, sparking international outrage at the shady practices of the salmon farming industry.
RACING A VIRUS
This short film is filmed and edited by April Bencze with illustrations by Tavish's twin sister Farlyn Campbell. It breaks down the spread of Piscine Reovirus from the Atlantic salmon being farmed in open-net pen salmon farms to wild Pacific salmon.
SMOTHERED REEF: Salmon farms and Glass sponges
This short film is directed, filmed, and edited by Tavish Campbell in 2018, revealing the destruction of an incredibly rare ecosystem by open net-pen fish farm practices.
FISH FARM INDUSTRY vs. INDIGENOUS FOOD FISHING RIGHTS
This short film is directed, filmed, and edited by April Bencze, highlighting a community's fight to protect wild salmon from the disease-ridden open net-pen salmon farming industry operating in the First Nation's territory without their consent. Fish Farm Occupations. Winter, 2018.
We all walk towards it. Some of us swim headlong into its embrace with such purpose it's almost enviable. That is, seeing such loyalty to the inevitable could seem enviable to those who try to cheat it, become lost to the grief of it.
Death saturates October.
The river is thick with it. The smell of it floods into my nostrils. Carcasses strewn upon rocky cascades, coming to rest on banks of worn gravel. Bodies ripped and torn and taken deep into the forest in between the teeth of bears and wolves. A raven plucks an amber eye from the fresh-dead chum right in front of me.
It fills my senses and my thoughts as I place my feet carefully from slick rock to slippery log. This is the season for it, after all.
Death.
Then I stumble upon this. I almost trip upon the skeletons of two dead salmon, curled into eachother like transcendant lovers. I feel intrusive in my witnessing of their final embrace. I am naive in my understanding of death. How can I both fear and hurl myself towards something that carries such finality? How some days I am so afraid of it swallowing those around me that I close myself off to life to try to cheat grief.
The moment releases me. I turn back to the same river I was walking down, only it looks different now. I see the clay banks scarred by bear claws, dippers flitting from one rock to the next, eagles just barely able to fit their enormous wingspan between the dangling lichens. The powerful tails of chum throwing water into the air before they gift their bodies to their unborn children. All around me, death and life dance together.
There's an acceptance and respect for this ancient relationship that permeates the air. I am humbled, once again, standing knee-deep in a small river wondering how many times the salmon will patiently and persistently open me to their teachings.
And how to follow those who leave no footprints?
Those born with fins rather than feet. Those whose lives are spent moving through bodies of water and through bodies of all kinds.
If you look closely, you will find the mark of salmon everywhere.
Look for their bodies melting into riverbeds. Pink falling from suspension into the embrace of emerald-sheathed river rocks; falling just like the autumn leaves above.
Look for the black dorsal fins of chinook-fuelled orcas breaking the barrier from ocean into atmosphere. You'll see the mark of salmon in their health. You'll even smell it in the exhales they leave hanging above the sea on a windless day.
Look for the coastal wolf mother teaching her pups how to fish at the local river come fall-time. You'll hear the mark of salmon in her howls as she summons the pack to the annual feast of chum brains.
Look to the bear who waits patiently at a waterfall to catch a leaping coho in midair; you'll feel salmon in his spirit, you'll see it plain as day in his perseverance.
And if you could see what builds us coastal people, well you would find the mark of salmon in the endlessly loving grey matter of my mother. You would decipher the source of my bones, the source of my strength, as the riches of sockeye that built my body from infant to woman.
So how to follow those who leave no footprints?
Well a salmon's trail can be tracked up, up, up the towering trunks of the tallest trees that stand alongside the river. Then cast your eyes downward to find scales scattered like sequins on the moss blanket pulled up tight to the body of an elder spruce.
Once you learn to look, you will find salmon everywhere.
You can read more of April's writing at these sources:
This year, we aim to dedicate more time and effort in groundtruthing and documenting the extractive industries that continue to push Pacific salmon to decline. Every Coast Calendar purchased makes it possible for us to focus on this work; creating films, creating images, writing, and organizing direct actions to protect salmon. It takes a lot of time and resources to create these underwater images and make these films, your support helps make this work a reality.
You can directly support our work to save and celebrate Pacific Salmon in the face of environmental injustice by ordering a Coast Calendar.